Chambre d'Hôtes (B&B) and/or Gîte, with Table d'hȏtes, La Difference - Le Pressoir.
Christine would like to welcome you in her paradise
in the peaceful country village of Rouellé, very close to the medieval city of Domfront.

---
LA DIFFERENCE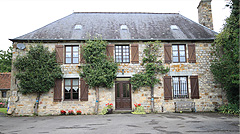 Is our main house, there is a suite with a king size bed, bathroom with shower and balneo bath.
For dinner, "Table d'Hôtes" is served.
LE PRESSOIR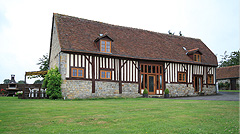 The old presshouse "Le Pressoir" was restored with much love and in keeping with the old original features.
It contains 5 rooms, 3 of which have their own bathroom and 2 rooms that share a bathroom (family room). Inside, there is a feeling of comfort and relaxation.
LE PRESSOIR (GÎTE)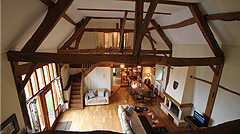 If you are looking for a place to stay with family and friends under one roof, Le Pressoir can be booked as a holiday cottage for up to 10 people with all the luxury and comfort.
You can also make use of the breakfast service and Table d'Hôtes dinner.
---
Thanks 2017, Welcome 2018!
Let this New Year be the one, where all your dreams come true, so with a joyful heart, put a start to this year a new.
Wishing you a happy and prosperous New Year 2018.
And we shall continue with the same motivation in 2018 because we are so proud of our fantastic review score on @bookingcom! #guestsloveus

---
🚴 🚴 🚴You are preparing your cycling holiday on the Veloscenic Paris-Mont St-Michel!
🚴 🚴 🚴
La Difference-Le Pressoir is located 2km of the Greenway direction Domfront-Mont St Michel exit 53
Bed and breakfast or holiday home 4épi (up to 10 p) with pool and outdoor spa.
Nothing is more blessed than after bike ride to relax in our wellness garden.
Our heated pool and outside sauna, jacuzzi at your disposal!
Local for bike,
Dinner possibility 🍽️
Possibility of washing clothes.
Prices from €65 / 2 p incl. breakfast.
Meals €25 on booking.
! Certainly ask us to check availability!

---
RELAX... OR BE ACTIVE...
You will stay in a very peaceful rural countryside where you can enjoy sauna Barrel, Jacuzzi, swimming pool and other facilities around the house.
If you want to escape for a couple of days, there are a thousand and one reasons to come and visit: walking, cycling, vtt, fishing, rock-climbing, bungee jumping, kayak, adventure forest, romantic castles, religious monuments, historical cities, and relaxation.
Here, young and old will find their pleasure!