Chambre d'Hôtes (B&B) and/or Gîte, with Table d'hȏtes, La Difference - Le Pressoir.
Christine would like to welcome you in her paradise
in the peaceful country village of Rouellé, very close to the medieval city of Domfront.

---
LA DIFFERENCE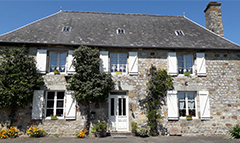 Located in the renovated barn opposite the gîte, a luxury room with its private terrace under a lean-to overlooks the countryside. The large panoramic windows offer a magnificent view of the hedges and fields crossed by deer in the morning and evening.
LE PRESSOIR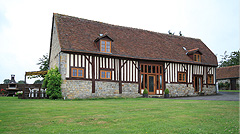 The old presshouse "Le Pressoir" was restored with much love and in keeping with the old original features.
It contains 5 rooms, 3 of which have their own bathroom and 2 rooms that share a bathroom (family room). Inside, there is a feeling of comfort and relaxation.
LE PRESSOIR (GÎTE)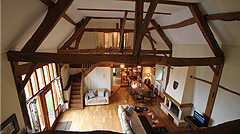 If you are looking for a place to stay with family and friends under one roof, Le Pressoir can be booked as a holiday cottage for up to 10 people with all the luxury and comfort.
You can also make use of the breakfast service and Table d'Hôtes dinner.
---
It is with great pride that we present our new room!
New room!

It is with great pride that we present our new room!
"La Difference"
Located in the renovated barn opposite the gîte, our new room, with its own terrace under a lean-to, overlooks the countryside. The large picture windows offer a beautiful view of the hedgerows and fields through which the deer walk in the evening.

To the rear and sides are the garden and relaxation area with pool, bar-sauna and hot tub, all of which are outside.

This large 30 m² room is completely independent and has a contemporary style that retains the character of the old barn. Equipped with sitting area with sofa bed, a kitchenette* with microwave, fridge and tea and coffee making facilities, it has a large 180/200 bed and a luxurious bathroom with Italian shower.

In the calm of the Domfrontais bocage, you will be able to find yourself, recharge your batteries and enjoy an unforgettable moment.
And why not extend or enhance your stay with a massage session and enjoy the relaxing effects of the spa and sauna? In your room or outside on your private terrace, surrounded by greenery and lulled by birdsong.
Do you want to relax? Is your body crying out for more well-being? In collaboration with Jérôme, doctor of ZEN'daine Bien-être & Relaxation, we offer you, by appointment, personalised massages from all over the world, lasting 25, 35, 50 or 70 minutes.

Patrick and I welcome you to this new room dedicated to relaxation. We remain at your service and at your disposal for all your questions.

Prices from € 95.00.


* The kitchenette does not have a cooker.

---
« Moment Bien-être » (pour 2 personnes).
---
***Discover our new offer***
You have arrived in our paradise. You have just put your suitcases in the quiet countryside.
Now is the time for relax: breath fresh air, enjoy the pool and sunbathing (may-september), savor the relaxing effects of the jacuzzi and sauna.
Would you like to extend or enhance your well-being with a massage session?

From this summer, in collaboration with Jérôme, well-being practitioner, we offer massages of the world or personalized of 25 or 50 minutes only by appointment. These massages of relaxation are given in our paradise La Difference-Le Pressoir:
- indoors in a fullness cocoon environment,
- or outside, on the private terrace surrounded by greenery and lulled by the song of birds.

For more information on massages, please consult the ZEN'daine, Well-being and Relaxation leaflet, attached.

Please note: from September, we will also be offering "Well-being and relaxing stays"(more info later).


---
🎅🎄✨December a month fairytale 🎅🎄✨
There is always a good reason to spend a weekend or night at the holiday home / Bed & Breakfast "La Difference -Le Pressoir".
But during the month December is it more magical.
Enjoy with family, friends or as couple the magic of Christmas at the Bocage Normand.
Each year, in December, the Norman bocage dressed in his best clothes of light for the joy of adults and children.
We are good situated on the tour "Villages illuminated between Saint March d'Egrenne and Beauchêne.
We have still a few days available.
Do not hesitate to contact us for any information.
info@difference-pressoir.com
02/33 65 03 23

---
🚴 🚴 🚴You are preparing your cycling holiday on the Veloscenic Paris-Mont St-Michel!
🚴 🚴 🚴
La Difference-Le Pressoir is located 2km of the Greenway direction Domfront-Mont St Michel exit 53
Bed and breakfast or holiday home 4épi (up to 10 p) with pool and outdoor spa.
Nothing is more blessed than after bike ride to relax in our wellness garden.
Our heated pool and outside sauna, jacuzzi at your disposal!
Local for bike,
Dinner possibility 🍽️
Possibility of washing clothes.
Prices from €65 / 2 p incl. breakfast.
Meals €25 on booking.
! Certainly ask us to check availability!

---
RELAX... OR BE ACTIVE...
You will stay in a very peaceful rural countryside where you can enjoy sauna Barrel, Spa, swimming pool and other facilities around the house.
If you want to escape for a couple of days, there are a thousand and one reasons to come and visit: walking, cycling, vtt, fishing, rock-climbing, bungee jumping, kayak, adventure forest, romantic castles, religious monuments, historical cities, and relaxation.
Here, young and old will find their pleasure!